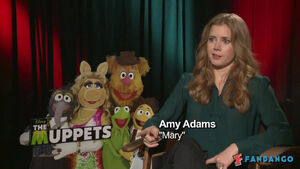 Fandango is a service for purchasing movie tickets over the internet. The website also hosts exclusive content such as celebrity interviews and clips.
Appearances
On March 30, 2011, Elmo was interviewed at South By Southwest for Being Elmo: A Puppeteer's Journey. Elmo says he's not allowed to say "the M word" (Muppet) and when asked, says that all his friends are in the new Muppet movie, but he couldn't go. (YouTube)
External links
Ad blocker interference detected!
Wikia is a free-to-use site that makes money from advertising. We have a modified experience for viewers using ad blockers

Wikia is not accessible if you've made further modifications. Remove the custom ad blocker rule(s) and the page will load as expected.