Ad blocker interference detected!
Wikia is a free-to-use site that makes money from advertising. We have a modified experience for viewers using ad blockers

Wikia is not accessible if you've made further modifications. Remove the custom ad blocker rule(s) and the page will load as expected.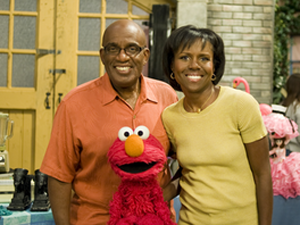 Families Stand Together: Feeling Secure in Tough Times is a one-hour Sesame Street special that aired in PBS prime-time, September 9th, 2009.
Today Show weatherman Al Roker and news correspondent Deborah Roberts (who are married in real life) join Elmo on Sesame Street to help families with young children raise a healthy and emotionally secure child during tough economic times.
Other guests include Jean Chatzky, the financial editor for Today, and Dr. Joshua Coleman, the author of several books about marriage and families.
Donald Faison hosted a separate special for young adults, Your Life, Your Money, following the Sesame Street-based program.
Cast
Crew
Executive Producers: Lisa Lax, Nancy Stern, Christina Delfico, Rob Burnett, David Letterman
Supervising Producer: Valerie Schaer, Andrew Ames
Directed by: Scott Preston, Kevin Clash
Written by: Christine Ferraro
Producers: Kevin Clash
Associate Director: Ken Diego
Production Designer: Victor DiNapoli
Technical Director: Tom Guadarrama
See also
External links