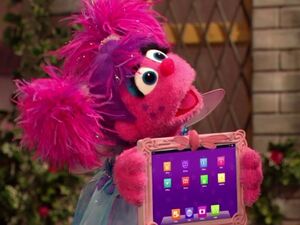 The Fairy Fly Pad is a a magic tablet device Abby Cadabby receives in the 2012 video, Elmo's Alphabet Challenge.
The device can do almost anything asked of it, such as adding numbers, playing music, writing names and even magically bringing food from its screen to the real world. It also features games, one of which Abby, Elmo and Telly are transported into.
The device spoofs Apple's iPad. Matt Vogel provides the device's speaking voice.
See also
Ad blocker interference detected!
Wikia is a free-to-use site that makes money from advertising. We have a modified experience for viewers using ad blockers

Wikia is not accessible if you've made further modifications. Remove the custom ad blocker rule(s) and the page will load as expected.