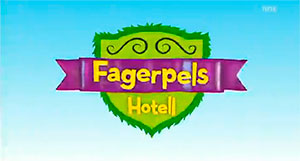 Fagerpels Hotell is the Norwegian dub of The Furchester Hotel. The first episode aired on NRK on May 2, 2015.
Character Translations and Voices
Additional voices
Christian Greger Strøm
Sarah MacDonald Berge
Katrine Blomstrand
Jon Erling Wevling
Erik Skøld
Additional credits
Translation by Kristoffer Olsen
Dubbing Director: Bård Høvik
Dubbing by SDI Media
Ad blocker interference detected!
Wikia is a free-to-use site that makes money from advertising. We have a modified experience for viewers using ad blockers

Wikia is not accessible if you've made further modifications. Remove the custom ad blocker rule(s) and the page will load as expected.