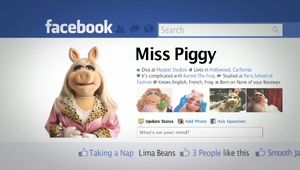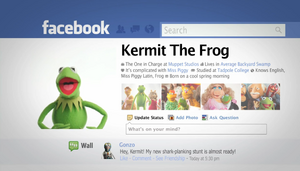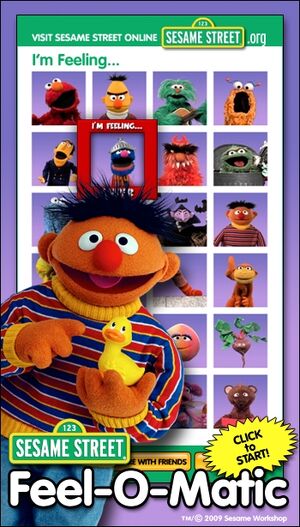 Facebook is a social networking website that is operated and privately owned by Facebook, Inc. The website currently has more than 400-million active users worldwide. Users create profiles with photos, lists of personal interests, contact information and other personal information. Users can also create and join interest and fan groups, some of which are maintained by organizations as a means of advertising. The Jim Henson Company, Sesame Workshop and The Muppets Studio have established official Facebook pages which are used as a way to communicate and connect with fans.
In March 2010, Sesame Street started creating fan pages for various characters - Elmo, Abby Cadabby, Cookie Monster and Grover were among the first, with more expected to come.[1] Elmo posted a special video message to his Facebook fans on March 9, 2010.
In March 2014, Constantine visited infiltrated the Facebook offices in promotion of Muppets Most Wanted his Badfrog website, left a video and photos for proof:
On March 26, 2014, Constantine, Kermit the Frog, Miss Piggy, Ricky Gervais and Ty Burrell did a live chat on their British and German Facebook accounts to promote Muppets Most Wanted, that was subsequently posted in the same spot, split up into two videos.
Official Facebook fan pages
References
In an interview for CNET, Kermit is asked about the usefullness of Twitter and Facebook, to which he replies, "it's so much easier to stay in touch with fans, friends, and especially family. When you have 2,342 brothers and sisters like I do, Facebook and Twitter save a lot of late night phone calls."[4]
The Muppets' Fan-A-Thon
In September 2011, the Muppets launched The Muppets' Fan-A-Thon a campaign to get a "bazillion" likes on Facebook to promote The Muppets. Special videos featuring Miss Piggy, Kermit the Frog, Fozzie Bear, Gonzo, Animal, and Sam the Eagle were created for the campaign.
Chat Stickers
In March 2014, Walt Disney Studios released Muppets Most Wanted stickers (by Amy Mebberson) for use in Facebook chat.
Notes
Muppet Wiki does not maintain coverage of personal Facebook profiles of Muppet cast or crew members; nor coverage of unofficial fan pages or groups.
In 2015, a controversial post on The Muppets Studio's official Facebook page was deleted roughly two days later, due to events that unfolded during the course of the day: On Friday, the 13th of November 2015, the studio posted "Wishing you a very dramatic Friday the 13th from Uncle Deadly. Good luck!" Hours later, a string of brutal terrorist attacks in Paris, France, left over 130 people dead. After the public left comments about the accidental inappropriateness of the post, it was removed from the page without comment.
External links
Sources