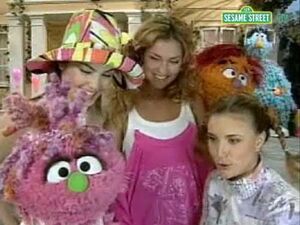 Fabrika (Russian: Фабрика; Factory in English) is a Russian pop girl group from Moscow that debuted in 2002. They gained popularity from the first season of the Russian talent show, Star Factory. The group's members are Sati Kazanova, Irina Toneva, Alexandra Saveljeva, and Maria Alalykina. The group finished second in the show, losing only to the boy band Korni. After the shooting of the group's first video, Maria Alalykina left Fabrika to complete her studies at her university.
The group appeared on Ulitsa Sezam, singing "We are Different" dedicated specially to diversity with the Sezam cast.
External links
Ad blocker interference detected!
Wikia is a free-to-use site that makes money from advertising. We have a modified experience for viewers using ad blockers

Wikia is not accessible if you've made further modifications. Remove the custom ad blocker rule(s) and the page will load as expected.