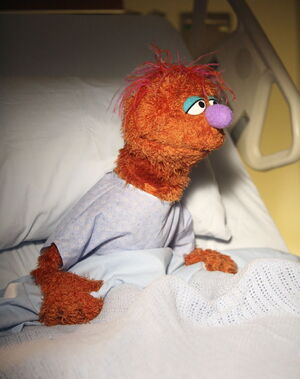 Ex Ray is an orange monster who appeared in the Scrubs episode "My ABC's", along with other characters from Sesame Street. The new monster is a patient of Sacred Heart Hospital in one of J.D.'s fantasies.
In the fantasy sequence, J.D. gives Ex Ray some bad news, explaining that the monster has a hand inside it. "That explains so many things," the monster sighs.
He appeared again, this time on Sesame Street itself in episode 4206 (performed by Jim Martin). He's seen inside Hooper's Store alongside the Count and Sherlock Hemlock. It was an on-topic appearance, as the storyline dealt with x-rays.