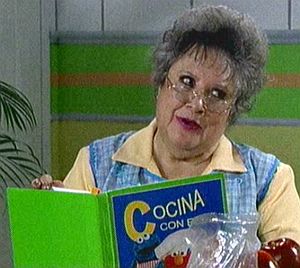 Evita Muñoz (b. 1936) is a Mexican actress in film and television best known for a string of dramas in the 1940s and 1950s with Pedro Infante, almost always as a character named "Chachita." Often credited as "Evita Muñoz 'Chachita'" as a result, the actress played La Abuela on Plaza Sésamo from 2000 until 2005 (replaced by Beatriz Aguirre) and returned to the role for the 2008 season.
Muñoz has remained a leading actress in Mexican cinema and TV, while international credits include small parts on Columbo (in the 1976 installment "A Matter of Honor," as a chambermaid) and Romancing the Stone (as "hefty woman," with Kathleen Turner and Danny DeVito). In recent years, she has had regular or recurring stints on the telenovelas Alma rebelde and Mujer, casos de la vida real. She participated in the Mexican Spanish dub of Disney's CG animated feature Meet the Robinsons as Dr. Lucille Krunklehorn.
External links
Ad blocker interference detected!
Wikia is a free-to-use site that makes money from advertising. We have a modified experience for viewers using ad blockers

Wikia is not accessible if you've made further modifications. Remove the custom ad blocker rule(s) and the page will load as expected.