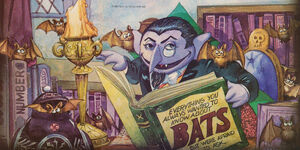 Everything You Always Wanted to Know About Sex*But Were Afraid to Ask was a best-selling sex manual written by Dr. David Reuben and published in 1969. The book was widely influential and loosely inspired the Woody Allen comedy of the same name (which took a less clinical approach). The title also spawned many jokes along the "Everything You Always Wanted to Know About [Blank]" lines.
References
In the October 1985 issue of Sesame Street Magazine, an illustration for the poem "The Count's Library," the Count is reading Everything You Always Wanted to Know About Bats but Were Afraid to Ask.
In Sesame Street Episode 3662, Natasha sprouts her baby horns. Parents Humphrey and Ingrid, in need of advice, consult a book - Everything You Wanted to Know About Baby Horns...But Had to Ask Me Because You Don't Have a Clue and I Do.
Ad blocker interference detected!
Wikia is a free-to-use site that makes money from advertising. We have a modified experience for viewers using ad blockers

Wikia is not accessible if you've made further modifications. Remove the custom ad blocker rule(s) and the page will load as expected.