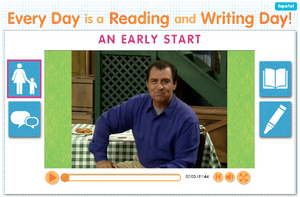 Every Day is a Reading and Writing Day is an online, bi-lingual Sesame Street initiative that promotes literacy in young children launched in October 2013.
The special section of Sesamestreet.org features content to help parents and kids learn about literacy with the use of games, downloadable activities and parental tips. The section features footage from two previously released resource videos, Language to Literacy and Talk, Read, Write, as well as clips from the show.
The program was officially announced and launched at an event held at the New York City Library, with a special show featuring Alan Muraoka and Grover.
External links
See also
Ad blocker interference detected!
Wikia is a free-to-use site that makes money from advertising. We have a modified experience for viewers using ad blockers

Wikia is not accessible if you've made further modifications. Remove the custom ad blocker rule(s) and the page will load as expected.