Ad blocker interference detected!
Wikia is a free-to-use site that makes money from advertising. We have a modified experience for viewers using ad blockers

Wikia is not accessible if you've made further modifications. Remove the custom ad blocker rule(s) and the page will load as expected.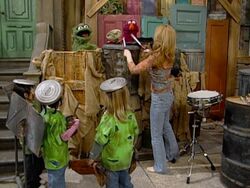 Evelyn Glennie is a world-renowned, award-winning, classical virtuoso percussionist with a post-lingual hearing impairment. In 1988, she appeared in The Ghost of Faffner Hall episode "If You Can Play, It's an Instrument," as a member of the Scottish Chamber Orchestra. In 2001, she appeared in two segments on Sesame Street playing the marimba and other percussion instruments.
In one segment, Glennie and Linda prepare to perform an orchestral piece. Before Glennie begins, she instructs Linda to join the performance when she's signaled. Linda shows enthusiasm for her participation, but by the end of the piece she has nearly fallen asleep. Glennie alerts her with a tap of the shoulder and Linda closes with one strike of a cymbal. When Linda recives the most praise from the audience, including flowers from a little girl, Glennie leaves the stage in a huff. (EKA: Episode 3930)
In another segment, Glennie asks Oscar the Grouch if she can play in his Grouchketeer band. She demonstrates her percussion skills on her drums, trash can lids, and the Grouchketeers' heads. Oscar and the Grouchketeers are impressed. (EKA: Episode 3943)