Ad blocker interference detected!
Wikia is a free-to-use site that makes money from advertising. We have a modified experience for viewers using ad blockers

Wikia is not accessible if you've made further modifications. Remove the custom ad blocker rule(s) and the page will load as expected.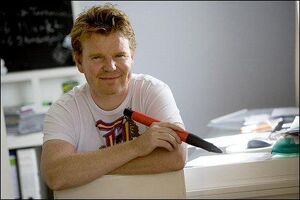 Eus Roovers (b. June 21, 1968) writes several sketches for Sesamstraat, the Dutch co-production of Sesame Street. In September 2007 he started writing stories about Aap (Monkey) and Reus en dwerg (Giant and midget).
Season 2007-2008
Aap
Sneeuwpop (Snowman) 30/10/2007 15/02/2008 24/05/2008
Muur (Wall) 03/11/2007 21/11/2007 22/11/2007
Schaduw (Shadow) 04/11/2007 19/02/2008 28/05/2008
Vogel (Bird) 26/11/2007 31/12/2007 01/05/2008 06/08/2008
Dans (Dance) 28/11/2007 21/12/2007 29/03/2008 08/07/2008
Reus en dwerg
Ruzie (Having Arguments) 13/10/2007
Vakantie (Vacation) 28/10/2007
Verstoppertje (Hide and Seek) 14/11/2007
Wedstrijd (Game) 03/01/2008 08/04/2008 16/07/2008
External link