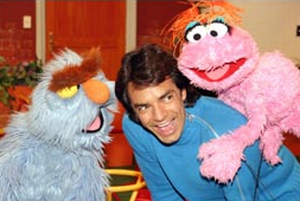 Eugenio Derbez (b. 1962) is a Mexican comedian, stage actor, and voice-over actor who appeared on Plaza Sésamo in 2004 and at other times. He also dubbed the voice of Lucky the dog in the Spanish version of Dr. Dolittle.
In addition to his own comedy series (including Al derecho y al derbez and La familia P. Luche), Derbez is best known for dubbing Eddie Murphy's roles in the Spanish versions of Mulan and the Shrek franchise, and played multiple roles in the bilingual Broadway play Latinologues. For American audiences, Derbez co-starred in the 2007 bilingual film La misma Luna (Under the Same Moon), while other credits include Beverly Hills Chihuhua, Jack and Jill (with Adam Sandler), Girl in Progress, and a regular role on Rob Schneider's 2012 sitcom Rob (as Hector).
External links
Ad blocker interference detected!
Wikia is a free-to-use site that makes money from advertising. We have a modified experience for viewers using ad blockers

Wikia is not accessible if you've made further modifications. Remove the custom ad blocker rule(s) and the page will load as expected.