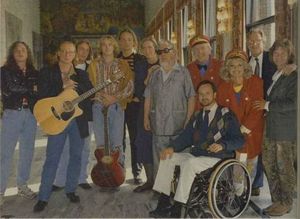 Et nytt liv was a live fundraising show that aired on NRK October 13, 1991, arranged by Norwegian Association of the Disabled and Norwegian Association for mental disabled, the money that was rasied went to various projects in the third world. The live show was divided into five blocks during the day (10:00-12:00, 13:25-16:30, 19:00-21:10, 22:00-22:40 and 22:50-23:30).
The cast from Sesam Stasjon did a performance in one of the five blocks.
Ad blocker interference detected!
Wikia is a free-to-use site that makes money from advertising. We have a modified experience for viewers using ad blockers

Wikia is not accessible if you've made further modifications. Remove the custom ad blocker rule(s) and the page will load as expected.