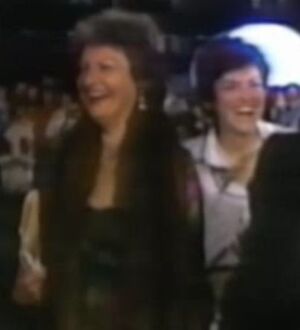 Estelle Reiner (1914-2008) was an actress and singer, and the wife of Carl Reiner. She made a cameo in the special The Muppets Go Hollywood, along with her husband, Dom Deluise, and Mel Brooks (and their respective spouses) as the final human arrivals.
Reiner's most notable role was in When Harry Met Sally (directed by son Rob Reiner), saying the memorable line "I'll have what she's having" (a line spoofed in Muppet parodies of the film). She also had small roles in the comedies To Be or Not to Be (with Mel Brooks), Fatso (with Dom DeLuise), Hot to Trot (with Dabney Coleman), and The Man with Two Brains (with Steve Martin).
External links
Ad blocker interference detected!
Wikia is a free-to-use site that makes money from advertising. We have a modified experience for viewers using ad blockers

Wikia is not accessible if you've made further modifications. Remove the custom ad blocker rule(s) and the page will load as expected.