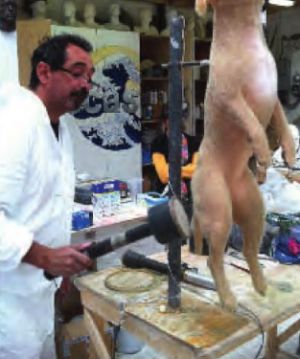 Esteban Mendoza is an animatronic designer and sculptor who worked for Jim Henson's Creature Shop primarily as a flocking specialist (giving latex materials a velvet surface for puppet or prosthetic purposes). He had previously worked for John Cox's studio on Babe working on robotics for the sheep while the Creature Shop handled the other animals.
After leaving the Creature Shop, Mendoza worked with Neal Scanlan's studio on Babe: Pig in the City and Kangaroo Jack. Although the Creature Shop only worked on the first Harry Potter movie, Mendoza stayed on as animatronic designer for most of the sequels. More recently, he worked on prosthetic makeup for Let the Right One In and Fury.
Creature Shop credits
Ad blocker interference detected!
Wikia is a free-to-use site that makes money from advertising. We have a modified experience for viewers using ad blockers

Wikia is not accessible if you've made further modifications. Remove the custom ad blocker rule(s) and the page will load as expected.