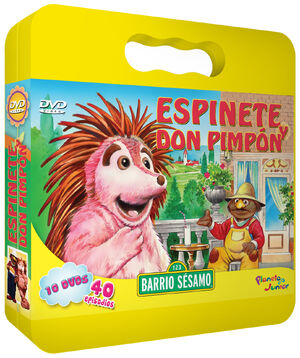 | | |
| --- | --- |
| Release Date | December 1,2008 |
| Produced by | SAV |
| Format | DVD |
| Discs | 10 |
| Region | 2 |
Espinete y Don Pimpón is a set of 40 Barrio Sésamo episodes on 10 DVD's. It was brought on the market by TV network Planeta Junior in collaboration with UNICEF and consists of digitally remastered material from the show. The episodes are for the second season aired in the 80s.
The running time for the set is 750 minutes.
Contents
Disc One
Gran Jefe Indio (1985): Espinete becomes an Indian when he finds a feather headdress.
La Inauguracion (1984): A party at the Horchateria.
Kurro y Espinete (1984): Barrio Sésamo is visited by Kurro (the robot).
¡Que Viene El Alcalde! (1984): The city council is coming to plant a pine tree in the street.
Disc Two
El Retrato Misterioso (1984): Don Pimpón plays a detective.
La Bola Magica (1984): Espinete finds a lamp ball. He pretends that he can see the future in it.
Espinete Cuentista (1984): A writer visits Chema's Panaderia. He inspires Espinete to become a writer.
Disc Three
Las Vacaciones de Espinete (1984): Everyone except for Espinete and Chema is going on a trip. They make their own beach and mountain vacation from their street.
Cosas Que Hacer (1984): Chema gives Espinete the assignment to clean up his alley.
La Luna Payasa (1984): Celeste starts making Papier-mâché action figures of Chema, Roberto, Ruth and Espinete in front of the Panaderia.
La Fotografia (1984): Espinete gets a camera from Don Pimpón. When he tries to take a picture, a loud horn blows and people look surprised.
Disc Four
Espinete y el rastrillo
Super Espinete
Corre la bola
La banda y Espinete
Disc Five
Ursula y Espinete
Esperando el autobús
Jugando a los personajes
Los viajes de Espinete
Disc Six
Los trogloditas
Soy famoso
El sereno
El vendedor ambulante
Disc Seven
El crecepelo
Personas, animales y juegos
Las prendas
El arca de Noé
Disc Eight
La amiga de Espinete
Los sombreros
Espinete y el Aspirus Zampa-Zampa
Santo y seña forastero
Disc Nine
El jefe y Espinete
Espinete bla bla bla
El viajero del espacio
Al cine de las sábanas blancas
Disc Ten
El eco y Espinete
Qué desastre de sastre
Espinete el justiciero
Espinete guardia urbano
Ad blocker interference detected!
Wikia is a free-to-use site that makes money from advertising. We have a modified experience for viewers using ad blockers

Wikia is not accessible if you've made further modifications. Remove the custom ad blocker rule(s) and the page will load as expected.