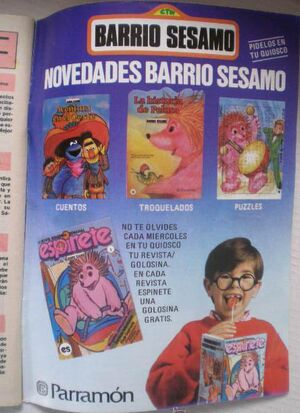 Espinete is a magazine that ties in with Barrio Sésamo, the Spanish co-production of Sesame Street.
Parramón Ediciones, SA, a Spanish company that specialized in books and educational paint and drawing supplies, gave Espinete his own magazine around 1983. This publication included puzzles, short stories, craft pages and puzzles.
The magazine cost 85 pesetas and was published at the same time as the new version of Barrio Sésamo (magazine).
See also
Ad blocker interference detected!
Wikia is a free-to-use site that makes money from advertising. We have a modified experience for viewers using ad blockers

Wikia is not accessible if you've made further modifications. Remove the custom ad blocker rule(s) and the page will load as expected.