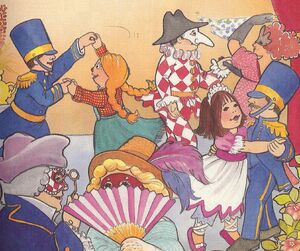 Esmerelda is a Raggedy Ann like doll, and one of Baby Piggy's favorite toys. She is featured in the 1987 storybook Baby Piggy's Night at the Ball. In the book, Piggy imagines getting ready for a costume ball with Esmerelda and Giselle. Esmerelda decides to go as a cowgirl, even bringing a hobby horse named Old Paint as her pony. The dolls disagree with Piggy, however, in inviting the clown doll Oliver (clown).
Once at the ball the rag doll dances with a dashing tin soldier, and eats little peanut butter and jelly sandwiches and chocolate ice cream, until Oliver spills his all over their costumes.
Ad blocker interference detected!
Wikia is a free-to-use site that makes money from advertising. We have a modified experience for viewers using ad blockers

Wikia is not accessible if you've made further modifications. Remove the custom ad blocker rule(s) and the page will load as expected.