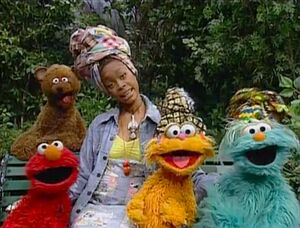 Erykah Badu (b. 1971) is a popular R&B singer known for her jazz-influenced music, her Afrocentric fashion sense, and her Nation of Gods and Earths-influenced lyrics.
On Sesame Street, she sang "Friendship" with Elmo, Baby Bear, Rosita, and Zoe. (EKA: Episode 3712)
External links
Ad blocker interference detected!
Wikia is a free-to-use site that makes money from advertising. We have a modified experience for viewers using ad blockers

Wikia is not accessible if you've made further modifications. Remove the custom ad blocker rule(s) and the page will load as expected.