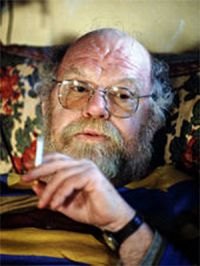 Ernst Günther (b. 1933-1999) was the Swedish voice for Cookie Monster in Sesam and Svenska Sesam.
Günther started his career in school, where he put on plays with Åke Edin, later to become a TV producer. Günther experimented in different fields, including journalism, but around age 30, he decided to become a professional actor. Although he failed to gain entrance to any acting school, he landed small parts at Riksteatern. He moved to Finland in the early 1960s, where he was connected to Wasa theater. He returned to Sweden in 1966 and was hired as a director at Norrköping-Linköpings theater. He would then work at different theaters around Sweden as a actor and director.
Günther had his first minor movie role in 1968 as a truck driver in I huvet på en gammal gubbe. His last movie role was in Den Vita lejoninnan from 1996.
External links