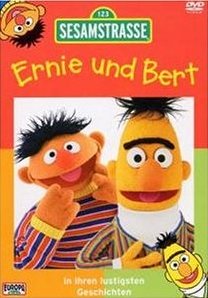 Ernie und Bert in ihren lustigsten Geschichten is a Sesamstrasse video featuring Ernie and Bert.
Segments
Wer, wie, was
Ernies Gegenteilspiel
Berts Telefon
Ernie und der Mann, der Hilfe braucht
Wer ist das? - Teil 1
Zwei Stück Apfelkuchen
Krümel im Bett
Wer ist das? - Teil 2
Ernies Eiswürfelsammlung
Wer ist das? - Teil 3
Zusammenzählen
Bert geht einkaufen
Wer ist das? - Teil 4
Ernies Anruf
Nach dem Bad
Ernie will sein Eis teilen
Ernie will in die Bibliothek
Der Schneemann
Ernie geht ins Bett
Wer, wie, was
Ad blocker interference detected!
Wikia is a free-to-use site that makes money from advertising. We have a modified experience for viewers using ad blockers

Wikia is not accessible if you've made further modifications. Remove the custom ad blocker rule(s) and the page will load as expected.