Ernie and His Merry Monsters
Talk

0
25,901pages on
this wiki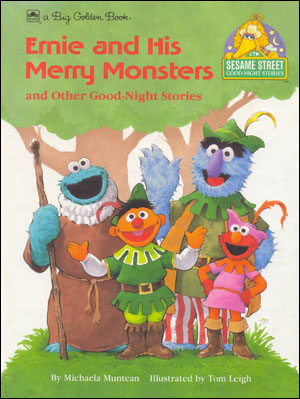 Ernie and His Merry Monsters and Other Good-Night Stories includes a version of the Robin Hood story, as well as "The Big Bad Grouch" and "Cookie Crumbs."
In "Ernie and His Merry Monsters", Ernie is reading The Adventures of Robin Hood, and begins to dream under a tree. In his dream he has become Robin Hood, with Elmo taking on the role of Will Scarlett, Herry Monster as Little John, and Cookie Monster as Friar Tuck. First they help a boy get his kitten down from a tree, and then they assist a woman in fishing her ring out of a sewer. Ernie is awoken by the cries of a girl, and together with his real life band of Merry Monsters, they help to rescue a lost puppy.
In "The Big Bad Grouch", Oscar the Grouch is practicing before his audition for the Grouch's Theatre's production of The Big Bad Wolf. Big Bird asks Oscar if he means The Three Little Pigs, but Oscar explains this is a Grouch production, and the main character is the wolf, not the pigs. So Big Bird wishes him luck, and leaves him alone to practice his huffing and puffing.
"Cookie Crumbs" is the tale of Elmo, who is on his way to Hooper's Store to get some milk for his Mom. Before he leaves the house, his Mom gives him three oatmeal cookies to eat on his way. While walking to the store, Elmo remembers the story of Hansel and Gretel, and decides to leave a trail of cookie crumbs to leading his way back home. After leaving Hooper's store, he finds the trail gone, having been eaten by Cookie Monster.