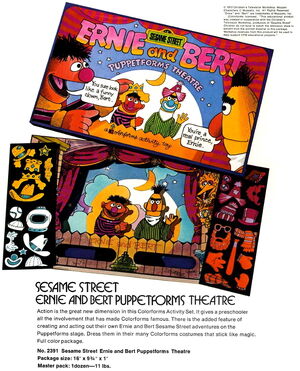 Ernie and Bert Puppetforms Theater is a Colorforms playset released in 1973. Building on the success of similar playsets featuring Mickey Mouse and Raggedy Ann, the set featured multiple costumes for Bert and Ernie including an astronaut helmet, baseball gear and royal headwear.
Art for the box and interior were provided by Sesame Street illustrator Michael J. Smollin.
This set was followed by another Puppetforms set in 1980, Muppet Show Colorforms.
Ad blocker interference detected!
Wikia is a free-to-use site that makes money from advertising. We have a modified experience for viewers using ad blockers

Wikia is not accessible if you've made further modifications. Remove the custom ad blocker rule(s) and the page will load as expected.