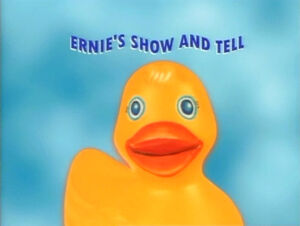 Ernie's Show and Tell is a recurring Sesame Street segment, which debuted in Season 30. In the segment, kids show Ernie an item, such as a drawing they've made or a favorite toy, and tell him all about it.
When these were shown after Season 32, as part of Journey To Ernie, the opening introduction was cut.
The segments theme song was written by Luis Santeiro (lyrics) and Robby Merkin (music).
Segments
| Picture | Summary | Earliest Known Appearance | Description |
| --- | --- | --- | --- |
| | Picture of Grandpa | Episode 3790 | Ernie's friend Michael shows him a picture of his grandpa. |
| | Baby Booties | Episode 3812 | Nelson shows Ernie the baby booties he got for his yet-to-be-born sister. |
| | SpinArt | Episode 3821 | Nicole shows Ernie a picture she made with SpinArt. |
| | Bongos | Episode 3823 | Ernie and Daniel play the bongos. |
| | Crown | Episode 3826 | A girl named Rebecca shows Ernie her crown. |
| | Weather Map | Episode 3836 | A boy named Ben shows Ernie his map of the United States. |
| | Cell Phone | Episode 3838 | Ernie and Mandy record a message on a cell phone. |
| | Dinosaur Book | Episode 3845 | Sankarj shows Ernie his book about dinosaurs. |
| | Jewels | Episode 3878 | Ernie's friend Alexa surprises him with a bag of jewels. |
| | Glockenspiel | Episode 3930 | Ernie talks with Nicholas about his glockenspiel. |
| | Hockey Art | Episode 3962 | Dylan shows Ernie a drawing of his ice hockey equipment. |
| | Skinammerink | Episode 3980 | Zaj sings "Skinammerink" (which was the closing song for Sharon, Lois & Bram's Elephant Show) to Ernie. |
| | Picture of Friends | Episode 3987 | Sidney shows Ernie a drawing she made of some of her friends. |
| | Pretend Drum | Episode 3994 | Ernie's friend Andrew shows him his pretend drum. |
| | Family Picture | Episode 4096 | Joey shows off his family picture to Ernie. Joey's family comes out and they take a picture with Ernie. |
| | Violin | Episode 4106 | Patrick has Ernie guess what song he's playing on his violin. |
| | Sea Shell | | A child shows Ernie their sea shell and they listen to the ocean with it. |
See also