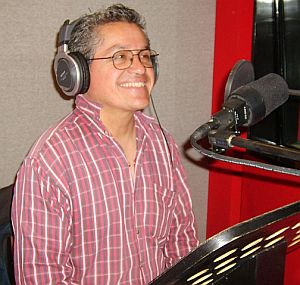 Ernesto Lezama is a Mexican voice actor who has voiced Gonzo in the Spanish dubs of all Muppet movies since 1992, including Una Navidad con los Muppets (The Muppet Christmas Carol) and Los Muppets en el Espacio. He also dubbed Telly Monster in the Spanish version of The Get Healthy Now Show and Chen Lo (Simon Yam) in Lara Croft Tomb Raider: The Cradle of Life, which featured digital Creature Shop Effects.
Lezama is the primary Mexican voice of David Spade, and has also dubbed John Morton (Dak) in The Empire Strikes Back, Jack Black in Shallow Hal, Steven Mackintosh in Underworld: Evolution, B.D. Wong in Executive Decision, Gedde Watanabe in Alfie (2004), and Bronson Pinchot in The First Wives Club. Cartoon credits include Speedy Gonzales and Porky Pig in various Looney Tunes projects, Captain Planet on Captain Planet and the Planeteers, Gregory on South Park, and Napoleon Bonesapart in The Corpse Bride.
Ad blocker interference detected!
Wikia is a free-to-use site that makes money from advertising. We have a modified experience for viewers using ad blockers

Wikia is not accessible if you've made further modifications. Remove the custom ad blocker rule(s) and the page will load as expected.