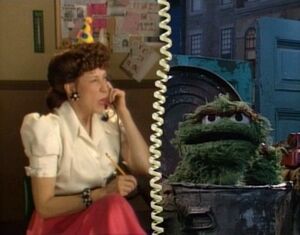 Ernestine the Telephone Operator is a character created by Lily Tomlin who originated on the sketch comedy series Laugh-In in 1968. Ernestine was a sarcastic, nasal telephone company employee, who counted the rings and greeted callers with "A gracious good morning to you" before launching into a verbal assault.
She appeared in video segments for the Walt Disney World stage show Here Come the Muppets in 1990, and returned in 1993 in Sesame Street Stays Up Late, trying to connect an assortment of grouches.
On Sesame Street, Ernestine tried to teach Baby Natasha how to be an operator, as well as an operator for Oscar in another episode.
In 1995, Ernestine appeared in the Kermit Unpigged CD, connecting Kermit the Frog with a call from Miss Piggy.
References
Ad blocker interference detected!
Wikia is a free-to-use site that makes money from advertising. We have a modified experience for viewers using ad blockers

Wikia is not accessible if you've made further modifications. Remove the custom ad blocker rule(s) and the page will load as expected.