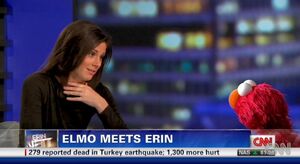 Erin Burnett OutFront is a news show on CNN at 7 pm, and repeated at 11 pm, which premiered in 2011.
Kevin Clash talked with Erin about Being Elmo: A Puppeteer's Journey, on October 24, 2011. She later talked to Elmo. Clips from the documentary were shown.
Elmo suggests playdates would solve the tensions in Washington, D.C..
External links
Ad blocker interference detected!
Wikia is a free-to-use site that makes money from advertising. We have a modified experience for viewers using ad blockers

Wikia is not accessible if you've made further modifications. Remove the custom ad blocker rule(s) and the page will load as expected.