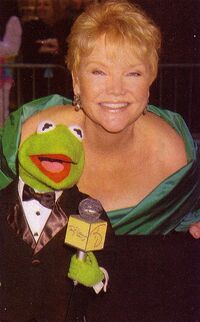 Erika Slezak (b. 1946) is an actress who plays Victoria "Viki" Lord on the Soap opera One Life to Live. Slezak has been the lead actress on the show since 1971, and she continues to feature in front-burner storyline. She holds the record for the most Daytime Emmy Awards won by an actress -- she's won six Emmys for Outstanding Lead Actress in a Drama Series, most recently in 2005.
At the 2005 Daytime Emmy Awards ceremony, Slezak was interviewed by Kermit the Frog, who was covering the event for The Tony Danza Show.
External links
Ad blocker interference detected!
Wikia is a free-to-use site that makes money from advertising. We have a modified experience for viewers using ad blockers

Wikia is not accessible if you've made further modifications. Remove the custom ad blocker rule(s) and the page will load as expected.