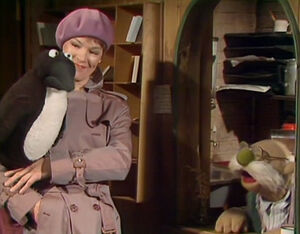 Eric the Parrot is a heartless pirate parrot who disguises himself as a penguin in episode 507.
Eric is performed primarily by Jerry Nelson except for the show's cold open. While Nelson performed Pops, he's manipulated by Dave Goelz who hides behind Jackson holding the penguin in a full body shot.
The parrot puppet is seen, unnamed, throughout the run of The Muppet Show, but often with slightly different features.
Filmography
Notes
Ad blocker interference detected!
Wikia is a free-to-use site that makes money from advertising. We have a modified experience for viewers using ad blockers

Wikia is not accessible if you've made further modifications. Remove the custom ad blocker rule(s) and the page will load as expected.