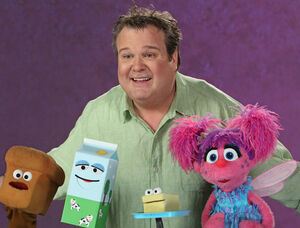 Eric Stonestreet (b. 1971) is an actor best known for his role on Modern Family. His other credits include CSI: Crime Scene Investigation and the film Bad Teacher (with Cameron Diaz and Jason Segel).
Stonestreet appears in Sesame Street's 43rd season. In a Word of the Day segment explaining "remember" with Abby Cadabby, he demonstrates the word by trying to remember "a loaf of bread, a container of milk and a stick of butter."
Ad blocker interference detected!
Wikia is a free-to-use site that makes money from advertising. We have a modified experience for viewers using ad blockers

Wikia is not accessible if you've made further modifications. Remove the custom ad blocker rule(s) and the page will load as expected.