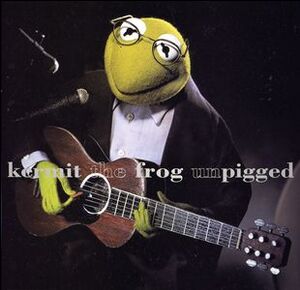 Eric Clapton (b. 1945) is an English guitarist, vocalist, and songwriter, and the only three-time inductee to the Rock and Roll Hall of Fame.
In Kermit the Frog's 1996 Advertising Parodies! calendar, Kermit the Frog parodied Clapton and his famous Eric Clapton Unplugged album cover as Kermit the Frog Unpigged.
It is not to be confused with the cover for the Muppets' 1994 album Kermit Unpigged, which features a similar design.
External links
Ad blocker interference detected!
Wikia is a free-to-use site that makes money from advertising. We have a modified experience for viewers using ad blockers

Wikia is not accessible if you've made further modifications. Remove the custom ad blocker rule(s) and the page will load as expected.