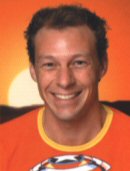 Eric-Jan Lens is a Dutch puppeteer who performs Stuntkip on Sesamstraat, the Dutch co-production of Sesame Street.
Along with his fellow perfomer Jogchem Jalink, Lens auditioned for the role in October 2007 and was trained by Kevin Clash and Bert Plagman.
His non-Henson puppetry credits include Koekeloere and Leesdas Lettervos Boekentas; he also did understudy work for Zazu, Timon and Ed during the Dutch run of The Lion King and was seen on Broadway in the musical Frog.
Ad blocker interference detected!
Wikia is a free-to-use site that makes money from advertising. We have a modified experience for viewers using ad blockers

Wikia is not accessible if you've made further modifications. Remove the custom ad blocker rule(s) and the page will load as expected.