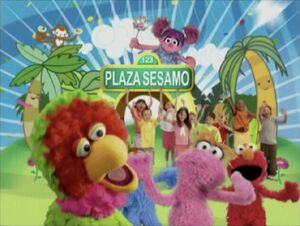 This episode guide is missing segments cut from Telefutura's broadcast.
Picture
Segment
Description

SCENE
A Vacuum salesman tries to sell Maria a vacuum to clean her house with, and ends up clearing her entire house of furniture.

Animation
A baby bird falls down from his tree, and a hedgehog helps him back up.
¡Otra vez en inglés! The segment then replays in English.
(EKA: Episodio 957)

Muppets
Pancho displays the letter E, then an "elefante" (elephant).
(EKA: Episodio 947)

Animation
Pencil box E/e
(EKA: Episodio 861)

Animation
Finding a 13 on a computer screen

Cartoon
Alien parents tuck their child in at night, and he counts 13 spaceships.
Artist: Bill Davis
(EKA: Episodio 913)

Film
A group of kids visit a TV studio and learn how a news broadcast is filmed.
(EKA: Episodio 887)

Cartoon
The different names for "Kite" in Spanish-speaking countries.
(EKA: Episodio 813)

SCENE
Manuel and Daniela are introduced to an odd friend of Pancho's who has a unique way of saying hello and goodbye.

Animation
Abstract count to 13.
Artist: Sally Cruikshank
(EKA: Episodio 838)

Muppets
The Martians examine a fan and are "blown away" by it.

Cartoon
E for Elefante
(EKA: Episodio 742)

Animation
Letter Garden: E
(EKA: Episodio 797)

Muppets / Film
Pancho Visión
Pancho presents a film of a farm boy goes to school, later using the English words he learned in school to identify the various parts of nature.
Film only: (EKA: Episodio 930)

Cartoon
Madlenka imagines the different ways she could get to school.
(First: Episodio 880)

Insert
Abelardo and the cast sing a rock song about riding bicycles.