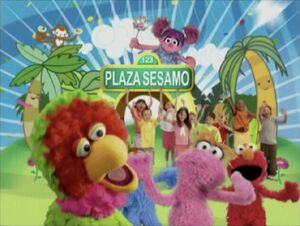 This episode guide is missing segments cut from Telefutura's broadcast.
Picture
Segment
Description

SCENE
Modesto Microfono reports on a dance contest on the plaza, where the various residents partner up and dance. A Multimonstruo, however, is partner-less, so Modesto fills in.

Cartoon
Hop, hop, shake your head, and sway like an elephant.
(First: Episodio 926)

Muppets
Lola presents the letter G, for "galleta" (cookie).
(EKA: Episodio 964)

Cartoon
Paper crumples to reveal G, g, and Gg.
(EKA: Episodio 816)

Film
A girl attends her ballet class.

Cartoon
A cat and dog start their day by exercising.
(First: Episodio 939)

SCENE
Lola's monster friend shares his odd interests, such as eating coconuts and playing the maracas by hitting them to his head.

Animation
11 music cases
(EKA: Episodio 815)

Film
A boy and his friend make a phone using two coconut halves and string.
(EKA: Episodio 952)

Muppets
Grover teaches the viewer a new dance, The "Groverelli". He is later joined by Prairie Dawn, Bert and Ernie.
Taken from Play with Me Sesame
(First: Episodio 938)

Film
"One Thousand Faces"
(EKA: Episodio 861)

Muppets / Film
Pancho Visión
Pancho presents a film of a boy who learns how a flute is made.
Film only: (EKA: Episodio 796)

Cartoon
A cat gets splashed by a passing car. He goes into a salon to get dry, then gets splashed after he leaves.
(EKA: Episodio 819)

Insert
Abelardo sees Pablo painting a dove on a wall, leading to a song about doves.