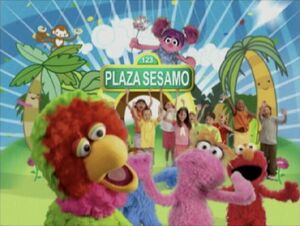 This episode guide is missing segments cut from Telefutura's broadcast.
Picture
Segment
Description

SCENE

Lola Aventuras
Lola uses her magic submarine to shrink so she can observe the different parts of a flower.

Cartoon

A song about different kinds of plants.
(EKA: Episodio 828)

Muppets

Abelardo introduces the letter I, for "Igul" (igloo).

Cartoon

I for Iguana
Artist: Oscar González Loyo
(EKA: Episodio 849)

Film

Kids observe different kinds of bugs and flowers.

Cartoon

CGI sheep graze out I and i.
(EKA: Episodio 906)

SCENE

Lola and Lola have disagreements over what they should do, so they sing "But I Like You."

Cartoon

7 kids build a 7.
(EKA: Episodio 867)

Muppets

At the Furry Arms, Stinky gives directions to the various guests when he passes out. A doctor goat prescribes light.
(EKA: Episodio 847)

Film

A song about recycling over footage of kids taking used bottles and using them as flower pots. (New audio)
(EKA: Episodio 813)

Animation

Two kids sitting on the grass look the same until they get colored with different skin, but they have the same reaction when a dog comes around.
¡Otra vez en inglés! The segment then replays in English.

Muppets / Film

Pancho Visión
Pancho presents a film of some students going on a nature hike.

Cartoon

A man blows 7 bubbles.
(EKA: Episodio 822)

Song

"Washin' the Dog"
(EKA: Episodio 819)

Cartoon

I for Iguana
(EKA: Episodio 867)

Muppets

Ernie sings "Quiet Time Song" while sitting under an apple tree, and is joined by a squirrel, a bird, a hornet's nest, a cat, and Gladys the Cow.