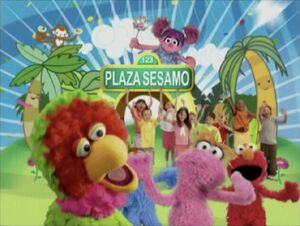 Picture
Segment
Description

COLD OPEN
Abelardo wonders what the word of the day could be, when Pancho arrives and shows him a half eaten "manzana".
(First: Episodio 936)




Muppets
Today, Abby Cadabby is going to make an apple large. However, her magic trick causes herself to shrink to the size of the apple.

Cartoon
A monkey and an elephant cooperate to get fruit.

Muppets
Abby tries her trick again, instead making herself huge. After she returns to normal size, she then calls her mom for help.

Cartoon
A dog tries getting his bone into his doghouse.

Muppets
Abby tries her trick one last time. With a wave of her wand, she makes the apple large, complete with a giant, apple-hungry worm.

Cartoon
A boy talks about his big dog, that will be his best friend no matter what size it will have.
¡Otra vez en inglés! The segment then replays in English.
(EKA: Episodio 883)

Muppets
Pancho presents the letter F, for "foco" (lightbulb).

Cartoon
The letter F becomes the legs of a flamingo.
(EKA: Episodio 882)

SCENE
Conciando con Verduberto
Today, Adrián Uribe assists Verduberto in preparing fruit, but needs to wash them first.

Animation
An animation on Manzana (apple).
(First: Episodio 936)

Film
A big F emerges, "Jaws"-like, in a swimming pool.
(EKA: Episodio 882)

Insert
Daniela and Lola sing about breakfast.
(First: Episodio 901)

Cartoon
Lapicito draws an F.
(EKA: Episodio 807)

Muppets
Elmo can't reach any apples in an apple tree, so Super Grover tries to help, first by telling the apples to come down, and then by shaking the tree. Eventually, Elmo finds a stick that he can knock an apple down with.

Cartoon
Monsters have a "fiesta" (party).
Artist: Oscar González Loyo
(EKA: Episodio 807)

SCENE
Los Monstruos También Lloran
Lola, quenched with thirst after a workout, heads to the fridge to find some water, but can't figure out which bottle it's in.