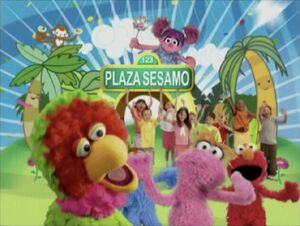 This episode guide is missing segments cut from Telefutura's broadcast.
Picture
Segment
Description

SCENE
Everyone makes themselves nametags for when a special visitor comes. After some difficulty, Pancho is able to make his, but out of a heavy rock.

Animation
A boy's imagination runs away with him as he reads.
(EKA: Episodio 814)

Muppets
Abelardo introduces the letter C, for "casa" (house).
(First: Episodio 939)




Video
Gymnasts form a C, for Carlos.
(EKA: Episodio 821)

Muppets
Cookie Monster sings "You Made Me Love You." (redubbed)
(EKA: Episodio 804)

Cartoon
It takes two kids two blow up a number 2.
(EKA: Episodio 734)

SCENE
A wind storm blows Abelardo, Lola, Manuel, Daniela and a girl around. Afterwards, debris is left everywhere. Pancho goes to get brooms to clean the mess up with. While he's gone, Elefancio blows the leaves away with his trunk. When Pancho arrives back, he and the kids discover Abelardo has used the debris to make himself a nest.

Film
A man talks about cacti as kids observe them.
(EKA: Episodio 855)

Muppets
Telly notices that the book Zoe reads is old-looking and worn. He learns that it's damaged because Zoe loves it so much, regardless of how damaged it is.
(First: Episodio 944)

Cartoon
Leanna Williams must save the world by cleaning it.
Artist: ArtistMike
(EKA: Episodio 924)

Song
"2, 2, 2, Me and You"
(EKA: Episodio 937)

Cartoon
Aliens vacation on Earth for an afternoon, but they litter.
(EKA: Episodio 816)

Muppets / Film
Pancho Vision
Pancho presents a film of two kids who ride a boat through a swamp.
Film only: (EKA: Episodio 861)

Cartoon
People paint a mural of a field landscape.
(EKA: Episodio 863)

Muppets
Abelardo, Lola, Pancho and the kids sing "Nuestro Mundo."
(EKA: Episodio 816)
Notes
The nest scene is a remake of a scene shot for the 1997 season.