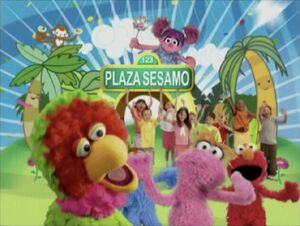 This episode guide is missing segments cut from Telefutura's broadcast.
Picture
Segment
Description

SCENE
Lola, Manuel and Pancho are preparing to play soccer, but Pancho can't fit the ball into a small backpack. They advise him to get a bigger one. However, he ends up flattening the ball. At least it can fit in the small backpack now!

Cartoon
The Sporty 3 catches 3 of various balls.
(EKA: Episodio 753)

Muppets
Lola displays the letter M, then a "mariposa" (butterfly).
(First: Episodio 952)




Video
Gymnasts form an M, which stands for Martin.
(EKA: Episodio 835)

Muppets
The Letter of the Day: M
Cookie Monster tries to disguise the Letter M Cookie to prevent himself from eating it.
(First: Episodio 938)

Cartoon
Mummy, Frankie and Wolfie learn how to measure things while figuring out how long a car is.
Artist: Fred Garbers
(EKA: Episodio 934)

SCENE
Abelardo finds Daniela and Manuel trying to shut off a water pump that's leaking. Don Boni passes by and fixes it with his wrench. Pancho then takes of the buckets they collected the leaking water in so he can bathe Elefancio.

Film
Pancho talks about things that are blue at the ocean.
(EKA: Episodio 802)

Muppets
The Martians spy a leaky faucet through a kitchen window. As it continues to drip, a Fat Blue woman turns it off, shocked to see that she had been wasting water.

Film
A visit to the fish market.
(EKA: Episodio 877)

Muppets
The Number of The Day: 3
Baby Bear, Mama Bear, and Papa Bear show up after learning that the number of the day is 3.
(First: Episodio 884)

Cartoon
"I'm Curious"
(EKA: Episodio 797)

Muppets / Film
Pancho Visión
Pancho introduces a film of a boy, who travels to his grandparent's house by boat.
(EKA: Episodio 947)

Animation
"We Are Kids From Far and Wide" - Colombia
(EKA: Episodio 808)

Film
A film insert about washing elephants at the Bronx Zoo. The song "Splish Splash" is used in part of the segment.
(EKA: Episodio 810)
Ad blocker interference detected!
Wikia is a free-to-use site that makes money from advertising. We have a modified experience for viewers using ad blockers

Wikia is not accessible if you've made further modifications. Remove the custom ad blocker rule(s) and the page will load as expected.