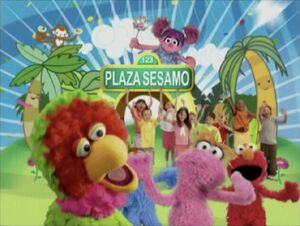 Picture
Segment
Description

COLD OPEN
Lola has the viewer guess what a fireman is.

SCENE
Abelardo joins a Multimonstruo pirate and his parrot on a sea voyage. They observe all the various sea sights, but fail notice the island they crash into.

Cartoon
On an island, a man tries to keep dry from the large waves.

Muppets
Lola displays 16 clouds.

Muppets
Elmo sings about "Emotion in the Ocean."

Cartoon
A man announces the vowels.
(EKA: Episodio 749)

SCENE
Pancho introduces a monster rock star, Rose Berta, who rocks the sounds of the vowels.

Cartoon
"Sixteen Blues"
(EKA: Episodio 851)

Film
A girl narrates a film of herself swimming.
(EKA: Episodio 882)

Muppets
Ernie tries to put a pot on Bert's head. Bert asks Ernie why he's doing that, and Ernie says that he broke a cookie jar. Ernie has to put the cookies somewhere, so he put them in the sugar bowl – and put the sugar in the flowerpot, which meant that he had to put the flower in a milk bottle. He put the milk in the soda bottle, the soda into the fishbowl, and the fish in Bert's cowboy hat. Bert asks, "Now what am I going to wear when I want to play cowboy?" Ernie puts the pot on Bert's head and says, "Ride 'em, cowboy, Bert!"
(EKA: Episodio 731)

Song
"The Turtle Song"

Cartoon
Cap'n Feenie asks, "What is it?" It's the ocean.
Artist: ArtistMike

Film
Wegman dogs show in and out with a pool.

Film
Pancho Visión
Pancho presents a film of a girl talking her mother, a dolphin trainer, and getting to swim with the dolphins.
Film only: (EKA: Episodio 802)

Cartoon
Animals on a Ferris wheel say "Hola!"

Muppets
"Sixteen Samba"
(EKA: Episodio 851)
Ad blocker interference detected!
Wikia is a free-to-use site that makes money from advertising. We have a modified experience for viewers using ad blockers

Wikia is not accessible if you've made further modifications. Remove the custom ad blocker rule(s) and the page will load as expected.