Plaza Sésamo
Plot
Lola and Pancho in Columbia (part 3)
Air date
2008
Season
11
Sponsors
R, 3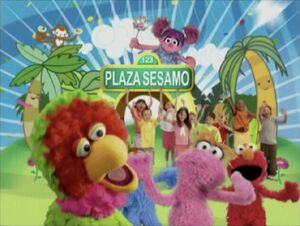 Picture
Segment
Description

COLD OPEN
Lola looks around the fruit stand to find the word of the day and finds "uvas" (grapes).

SCENE
Lola and Pancho attend a surprise party for their departure from Columbia.

Animation
Hop, Hop and Shake Your Head and Wriggle Like an Octopus.

Muppets
Lola presents the letter R, then displays a "rana" (frog).
(First: Episodio 926)

Cartoon
A caveman invents the "rueda". (wheel)
(EKA: Episodio 859)

Film
A boy attends his dance class.
(EKA: Episodio 891)

Cartoon
A child's heart becomes happy when they play the xylophone.

SCENE
The duo's hot air balloon lands back at the plaza, where a welcome back party awaits them.

Animation
The main foods of Columbia.

Cartoon
Three computer animated fish.
(EKA: Episodio 819)

Muppets
The Number of the Day: 3
Baby Bear, Mama Bear, and Papa Bear show up after learning that the number of the day is 3.
(First: Episodio 884)

Cartoon
"Dancing with the Flowers"




Video
Gymnasts form an R, for Rafael.
(EKA: Episodio 814)

Animation
Crumpled paper R / r
(EKA: Episodio 814)

Muppets
Grover teaches the viewer a new dance, The "Groverelli". He is later joined by Prairie Dawn, Bert and Ernie.
Taken from Play with Me Sesame

Cartoon
The Sporty 3 catches 3 of various balls.
(EKA: Episodio 753)

Muppets / Film
Pancho Visión
Pancho presents a film of kids observing nature as they hike to see a volcano.
Film only: (EKA: Episodio 917)

Cartoon
Alice Kadeezenberry learns how to throw a ball by watching others do it.
Artist: Paul Fierlinger
(EKA: Episodio 886)

Muppets
Initiated by Coach Pancho, Abelardo leads a musical workout for some kids and Lola.
Notes