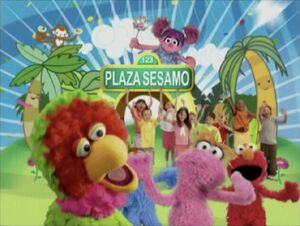 Picture
Segment
Description

COLD OPEN
Abelardo gives clues about the word "boca" (mouth).

SCENE
Lola and Abelardo help La Abuela in the kitchen. They make a bizarre concoction that none of them will eat, but a hungry Multimonstruo would.

Cartoon
A father must wash his wands before eating.

Muppets
Pancho sings about corn and the many foods that are made from it.
(EKA: Episodio 806)

Animation
Dancing pepper pattern - which one comes next?

Muppets
Abelardo introduces the letter G, for "galleta" (cookie).

Film
A song about eating over footage of babies eating.
(EKA: Episodio 823)

SCENE
Cecilla Galliano hosts a vegetable game show with contestants Lola, Abelardo and a monster.

Animation
Broccoli

Muppets
The Number of the Day: 8
Eight bats show up when The Count reveals that 8 is the number of the day.
(First: Episodio 876)

Animation
Counting to 8
(EKA: Episodio 731)

Film
Great Moments at the Sink
Timothy brushes his teeth, accompanied by sports narration. A 10.0 sink bowl!

Muppets / Film
Pancho Visión
Pancho introduces a film of a girl who lives in the desert.

Cartoon
Fish form G and g.
(EKA: Episodio 750)

Muppets
Elmo and Zoe sing "Share".
(EKA: Episodio 834)
Ad blocker interference detected!
Wikia is a free-to-use site that makes money from advertising. We have a modified experience for viewers using ad blockers

Wikia is not accessible if you've made further modifications. Remove the custom ad blocker rule(s) and the page will load as expected.