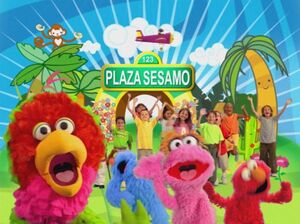 Picture
Segment
Description

SCENE
Abelardo, Lola, Pancho, Daniela and Manuel sing a song about colors amidst a bunch of ribbons.

Cartoon
A J becomes the neck of a "jirafa" (giraffe).
(EKA: Episodio 885)

Film
On his way home from school, a boy hears various noises.
(EKA: Episodio 872)

Muppets
Dr. Nobel Price shows Oscar his newest invention - a tiny trash can with a surprise inside. After many guesses, Oscar opens the can, which unleashes balloons, confetti and party music (much to his disgust).

Animation
The number 1 in various typefaces.
(EKA: Episodio 863)

Song
"There's a Lot of Different Ways to Get to School"
(EKA: Episodio 814)

Cartoon
Two white squares try to push a great big object, and are reluctant to let a black square join them at first.
(EKA: Episodio 797)




Video
Gymnasts form a J, for Jose.
(EKA: Episodio 842)

Animation
Arnold uses his imagination.
Artist: Craig Bartlett
(EKA: Episodio 902)

Muppets
The Number of the Day: 1
After practicing a few times, The Count hits an organ key, and the number is one. One elephant appears.
(First: Episodio 869)

Cartoon
The king of the Farcums wants a pyramid built; he and his subjects get inspiration from a seesaw.
Artist: Bruce Cayard
(EKA: Episodio 851)

Muppets
Abelardo, Pancho, Lola and the kids sing about the colors of the rainbow.
(EKA: Episodio 797)

Animation
Alligators, rabbits, birds, cheetahs, lizards and a monkey contribute to a rhythm and dance together.
Artist: Karen Aqua
(EKA: Episodio 885)

Film
Cheri goes fishing with her abuelo.
(EKA: Episodio 899)

Animation
Cecille sings "I Wanna Be Me."
(EKA: Episodio 813)

SCENE
Lola settles a sibling rivalry between Manuel and Daniela.

Insert
A celebrity tells Abelardo all the different ways of exercising and Abelardo shows off his method.