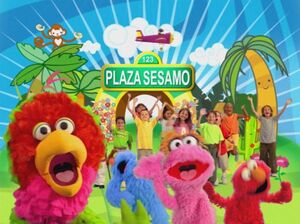 Picture
Segment
Description

SCENE
Pancho is fixing Manuel's bike and asks for Manuel's help. However, Manuel cannot hear because he is listening to the song, "Peluda Y Azul", on his headphones and Pancho has to scream his name. Once the bike is finished, Manuel plans to put his headphones on and ride his bike, but Pancho tells him it is dangerous to do that because he could get hurt. As Manuel goes to ride his bike, Pancho listens to the music and cannot hear when Manuel screams his name to avoid Abelardo, who is roller-skating.

Animation
Planet Q / q
(EKA: Episodio 800)

Film
Looking for triangles in the city

Animation
A showcase of how many fun things can be done with paper.
(EKA: Episodio 913)

Muppets
The Rainbow Fish counts groups of 5 in the ocean.
(EKA: Episodio 892)

Film
Kids make costumes for a parade.
(EKA: Episodio 732)

Cartoon
A man dances to meringue music.

Muppets
The Number of the Day: 5
5 bats fly in after 5 is announced to be the number of the day, and The Count offers them cake.

Animation
Fans unveil Q and q.

Film
The kids have fun playing "Doña Blanca" with pillars made of chewing gum and chocolate.
(EKA: Episodio 740)

Film
Candelaria talks about how her school went to the paper factory and make paper out of recycle paper.

Cartoon
A man dances to rock music.
(EKA: Episodio 749)

Muppets
Gladys the Cow helps Kermit direct the dance scene of his movie. Her task is to count backwards from 4 and yell "action", but she counts forwards instead. Kermit shows her the right way to and count and yells "Action!", which Gladys uses as an excuse to begin her dance scene.
(EKA: Episodio 908)

Cartoon
Five kids dress as magicians make the number 5 appear in a large magician hat.
(EKA: Episodio 738)

SCENE
Pablo Bigotasso and Lola goes inside the paintings that he has painted.
Notes
This is the final episode to feature Kermit, but the credit sequence continued to give copyright notice for him until 2010.