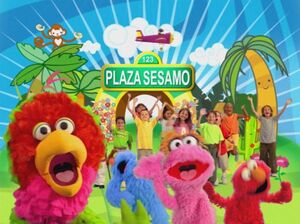 Picture
Segment
Description

SCENE
Lola borrows Daniela's crayons to help build her block tower.

Cartoon
A B becomes the fins of a "ballena" (whale).
(EKA: Episodio 871)

Song
"I'm the Big One Now"
(EKA: Episodio 747)

Film
Kid mural painting #14
(EKA: Episodio 873)




Muppets
On Monster Day, the monsters (including Elmo, Rosita, Merry and Frazzle) show Big Bird a B word, "bota" (bounce) as they bounce off a giant letter B board.
Taken from episode 3707 of Sesame Street
(EKA: Episodio 871)

Film
Balloons are popped in front of kids' faces, demonstrating surprise.
(EKA: Episodio 745)

Animation
Wooden shapes group themselves by color, then regroup by shape, then assemble themselves into a rocket ship.
(EKA: Episodio 735)

Muppets
Grover sings "What Do I Do When I'm Alone?"

Cartoon
A seal and a bear fight over a circus ball, but learn to cooperate.
Artist:Frank Gresham
(EKA: Episodio 745)

Film
Kids teach the "Ronda Acitrón" while passing around glasses of different colors.
(EKA: Episodio 745)

Cartoon
Number creatures #14
(EKA: Episodio 894)

Muppets

The Number of the Day: The Count counts and sings up to 14, accompanied by the Countess and their band of musicians.
(First: Episodio 885)

Cartoon
A cat cleans up some "basura" (trash).
Artist: Oscar González Loyo
(EKA: Episodio 738)

Song
"The First Time" - Children try various activities (riding tricycles, tying shoes, etc.) and progressively improve.
(EKA: Episodio 740)

Song
"When You Grow Up"
(EKA: Episodio 734)




SCENE
On a rainy day, Abelardo and his friends play a game of charades indoors about feelings.

Closing
Pancho and a news anchor give a healthy tip.