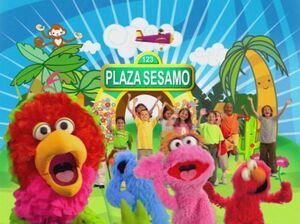 Picture
Segment
Description

SCENE

Lola watches over Daniela's pet turtle.

Film

What sound does a sheep make?
(EKA: Episodio 733)

Muppets

In song, a boy wanders into the Animal Lost and Found, looking for his pet named "Homer."

Cartoon

Quetzal
Artist: Oscar González Loyo

Film

A visit to an aquarium.
(EKA: Episodio 741)

Muppets

20 Faces (including kids, Mulimuppets and Multimonstruos)

Film

Kids swim with the dolphins.
(EKA: Episodio 802)

Cartoon

A ship captain orders the numbers 1-20 into a boat - which promptly sinks.
(EKA: Episodio 903)

Muppets

Kermit sings "Do-Op Hop."
(EKA: Episodio 752)

Cartoon

Millie and Molly argue over whether to get a pet cat or a dog, so their mom gets them a turtle instead.

Muppets

Ernie asks Bert to play a game where they take turns counting and then saying "Q". Ernie goes first with "1 Q", and Bert follows with "2 Q". The game continues, until Bert gets to "10 Q". "You're welcome, Bert!" Ernie says.

Film

Kids visit their grandparents' house by boat.

Animation

Planet Q / q
(EKA: Episodio 800)




SCENE

Lola Aventuras
Lola goes mountain climbing with her monster friend.