Plaza Sésamo
Plot
Plaza Oympiadas (part 4)
Air date
2006
Season
10
Sponsors
M, 11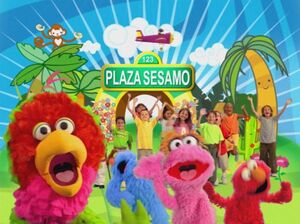 Picture
Segment
Description

SCENE
Modesto Microfono interviews Jordy Rosado, who will be racing in the next event. He explains the importance of drinking water. When he is all ready to go on his bicycle, Modesto tells him that he is actually racing on a tricycle. In the news studio, Dienton fetches himself a glass as well.

Cartoon
In a colorless environment, a duckling looks for his "mamá". Once he finds her, the world regains color.
Artist: Oscar González Loyo
(EKA: Episodio 878)

Film
Kids take a field trip and get to ride in small boats.
(EKA: Episodio 862)

Cartoon
Lapicito draws a lowercase M.
(EKA: Episodio 878)

Muppets
The Number of the Day:
The Count and The Countess: 11
(First: Episodio 883)

Cartoon
In an aerial view of a soccer field, announcers count 11 passes of the ball.
(EKA: Episodio 883)

Film
Cheri goes fishing with her abuelo.

Cartoon
Baby turtles head to the "mar" (sea).
Artist: Oscar González Loyo
(EKA: Episodio 743)

Muppets
Katie helps Basil tie his shoes.
Taken from Sesame Park.
(EKA: Episodio 743)




Video
Gymnasts form an M, which stands for Martin.
(EKA: Episodio 835)

Song
"You Don't Have to Be a Grizzly"...to eat some honey!
(EKA: Episodio 809)

Muppets
Ernie keeps catching fish, and Bert doesn't, so Ernie tries moving to a different place on the boat, then not using bait, then just quitting. When Bert finally catches something, it is only a note that reads: "What happened to your friend?"

Animation
At the beach, a penguin wants to listen to his radio, but he's disturbing a seal who's trying to read. They compromise by having the penguin use headphones.

Film
Kids sing a song about potatoes.
(EKA: Episodio 881)

SCENE
Modesto watches as Manuel, Lola and Jordy Rosado begin their tricycle race.