Plaza Sésamo
Plot
Plaza Oympiadas (part 3)
Air date
2006
Season
10
Sponsors
L, 9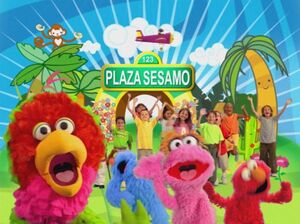 Picture
Segment
Description

SCENE
Modesto Microfono watches as the athletes prepare for the next race by stretching.

Cartoon
A dinosaur tries to eat an apple on a tree. A group of kids keep telling him to "GO HIGHER!"

Film
A boy talks about his soccer team.
(EKA: Episodio 735)

Cartoon
9 bakers

Muppets
The Number of the Day: 9
9 nifty bats, dressed to the nines, fly in after 9 is announced to be the number of the day, and The Count counts them.

Cartoon
An L becomes the mane of a "leon" (lion).
(EKA: Episodio 866)

Muppets
Chispas de Informacion
Modesto Microfono interviews a boy who shows him how he ties his shoes.
(EKA: Episodio 829)

Cartoon
Some rabbits cooperate by having two of them hold each end of their jump-rope. A kangaroo joins them.

Muppets
Abelardo and the kids sing a song about exercise.
(EKA: Episodio 808)

Cartoon
A man goes fishing at a "lago" (lake) and gets pulled in by the fish he's catching.
Artist: Oscar González Loyo
(EKA: Episodio 866)

Muppets
Elmo is sleeping over at Telly's. However Elmo can't sleep due to Telly's snoring. Elmo turn on the radio, so he can't hear Telly snoring, however the music is so loud that they can't sleep. Telly then tries to put his hand over his mouth and nose, however that don't work since he can't breath. Elmo then asks for some earmuffs, that worked. However now Telly can't sleep, because Elmo snores, luckily Telly has another pair of earmuffs.
(EKA: Episodio 746)

Cartoon
L for Luna - A astrologist spies the word "luna" in the sky.
(EKA: Episodio 845)

Animation
Playing cards form an L and limbo.
(EKA: Episodio 886)

Song
"It's a Long Hard Road, But I'm Gonna Get There"
The logos on the bike are blurred out.

SCENE
A baby monster and a man in a wheelchair compete in the triathlon, cooperating by handing the stick off to each other during the race. The monster gets so caught up in the race, that he mistakes Modesto's microphone for a stick and runs off with it.