Plaza Sésamo
Plot
Maria's family
Air date
2006
Season
10
Sponsors
X, 14
DVD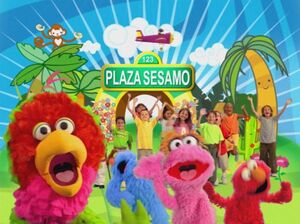 Picture
Segment
Description




SCENE
Maria's family comes to visit her from the United States. She introduces them to Lola, who learns an English phrase - "How are you?", which she then passes on to Don Boni. They soon run into Pancho, who claims to be a master English-speaker, but finds his English skills are a bit rusty.

Animation
Stamped and painted X animation.
(EKA: Episodio 874)

Muppets
An Anything Muppet man holds up pictures and asks the view to find a square in each of them. Cookie Monster soon joins him when the man shows a picture of a cookie box, which Cookie Monster believes has cookies in it.
(EKA: Episodio 830)

Animation
A square floats in space.
(EKA: Episodio 736)

Song
"You're Important"

Cartoon
Lapicito draws a lowercase X.
(EKA: Episodio 874)

Muppets

The Number of the Day: The Count counts and sings up to 14, accompanied by the Countess and their band of musicians.
(First: Episodio 885)

Cartoon
Number creatures #14

Film
Kids narrate footage of toddlers learning to walk.

Cartoon
Lapicito draws an uppercase X.
(EKA: Episodio 874)

Cast
Carmen cheers up some kids with a song about how special they are.
(EKA: Episodio 731)

Animation
A rectangle floats in space.
(EKA: Episodio 740)

Film
A girl uncovers an old marionette and visits a special puppet hospital to have it repaired.
(EKA: Episodio 745)

Film
Ornate Xs spin around in accompaniment to a song.
(EKA: Episodio 874)

Muppets
Before going to bed, Ernie prepares a long list of items he may need in the middle of the night. However, he covers his bed with so many things, there's no room for him to sleep, so he pushes Bert out of his bed.

Animation
A cube floats in space.
(EKA: Episodio 747)

SCENE
One of Maria's little cousins tries to play with Abelardo, Lola and the other kids, but the group has a hard time understanding what she wants to do with them.