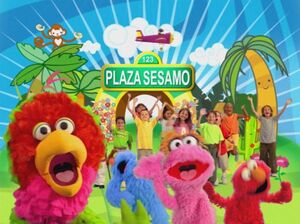 Picture
Segment
Description

SCENE
Manuel is afraid to get his haircut by Maria, but she and Daniela convince him otherwise. A Multimuppet arrives in the shop, with a large afro, which is retractable.

Song
"Lavarse los Dientes"
(EKA: Episodio 740)

Muppets
When Frazzle is scared of going to the dentist, his mother tries to comfort him by telling him what a good time he will have. In the end, the dentist turns out to be scared of Frazzle.
(EKA: Episodio 740)

Cartoon
40 lemmings (doo-wop)

Film
Jaws spoof with the letter R.

Cartoon
The parts of a man's face move around as they are drawn.
(EKA: Episodio 732)

Muppets
Big Bird talks about brushing teeth, but since he has none, he uses a horse's teeth instead.
(EKA: Episodio 822)

Cartoon
R for Rana (frog)
(EKA: Episodio 747)

Muppets
Abelardo and the kids sing a song about exercise.
(EKA: Episodio 808)

Cartoon
Superkid brushes his teeth.
(EKA: Episodio 865)

Muppets
Chispas de Informacion
Modesto Microfono interviews a boy who shows him how he ties his shoes. Modesto tries it himself, but ends up tying both pairs together and tripping.
(EKA: Episodio 829)

Animation
R in the mailbox.

Film
A boy attends his dance class.

Cartoon
The rabbit and the turtle race to the top of a building. The rabbit goes up 40 steps, but the turtle takes the elevator.
(EKA: Episodio 817)




SCENE
Abelardo accompanies Manuel and Pablo to the dentist's office. Seeing how nice getting your teeth checked is, Abelardo asks the dentist to take a look at his, but she finds he has none.

Insert
Abelardo talks briefly on brushing teeth, but since he has none, he lets his celebrity friend demonstrate.